How to acquire the Italian VISA
For seafarers (Visto di Lavoro Subordinato Marittimo)
This is by far one of the more complicated and specific VISAs that are required for crew members in order to join a vessel in Italy. It also only applies to the company Costa Crociere and their crew members. As the ships from the company are registered in Italy, crew members that join the country by air in order to join a vessel by law (as the ship is considered part of Italy) need to acquire a working seaman VISA, called "Visto di Lavoro Subordinato Marittimo".
YOU DO NOT NEED THIS VISA:
IF YOU'RE NOT A CREW MEMBER FROM COSTA CROCIERE
IF YOU'RE EMBARKING OUTSIDE ITALY
IF YOU'RE DISEMBARKING IN ITALY
It's important to mention that the visa costs 116 EUR and just like all other visas, this fee will be reimbursed on board. You are eligible to apply for it 3 months before your embarking date and all details will be sent to you either by the company or by your agency. This tutorial just exists because some crew members have difficulties while applying and most agencies around the world do not provide accurate information for the candidates.
Start by finding out which Italian consulate is closest to where you live. Each city/country has their specific website that will also allow you to view the forms in your own language, so you should use the one closest to you. Click here to find out a list of all consulates around the world.
After finding the one closest to you, the page will reload and by default, show you all texts in italian, but don't worry, on the top right corner you can change the language to your native one. Click to create a new user and fill out the form with all your basic information like full name, address, country and most important, your passport number.
After creating an account, you will receive an automatic email in order to confirm your identity, and you will not be able to access the same website, but at this time you will be able to select "Login for Registered User" and access it using the previous received login.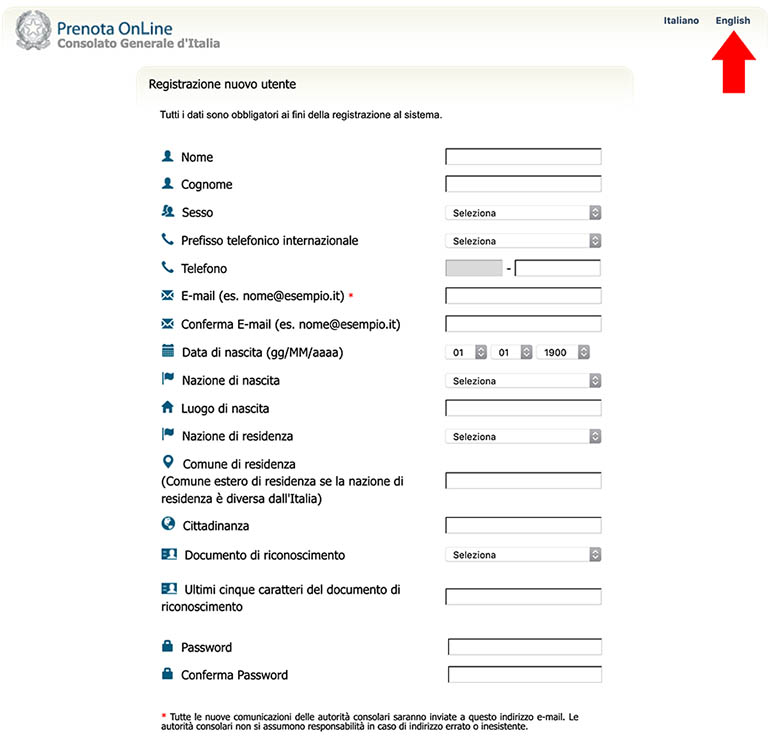 After accessing the website again using your credentials, you will be redirected to a small menu that might be in Italian, but don't worry, you can go back on the previous page and select another language and it should keep it as your choice.
On the "Menu Principale" on your left, the first option should be "Prenota il Servizio", or an option to make an appointment (on your own language). On this same menu you can change your password, check the dates of your appointments or even change the consulate location. As again, you should be registered on the consulate closest to your home address.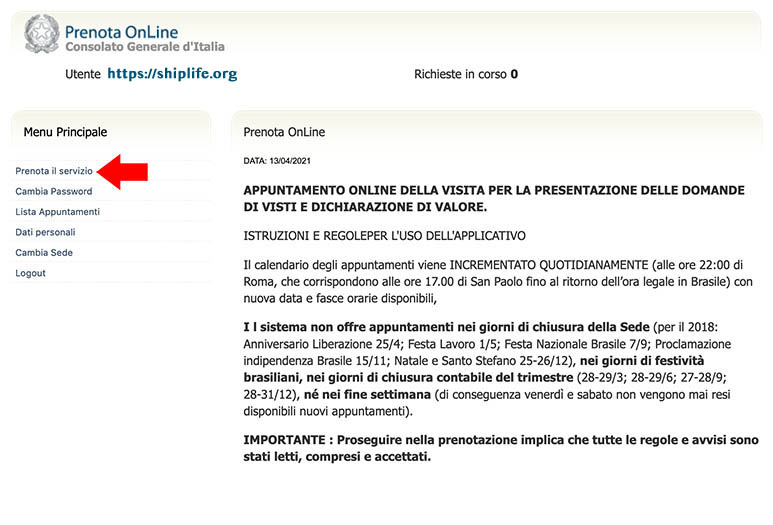 On the right side, you will see two options: "Visti" and "Dichiarazioni di Valore". You can click straight into "Visti" to be redirected to the next phase. Optionally you can click on the other option, a PDF file will open and it will show different prices of different visas available. As we mention again, the one you're applying to will cost you 116 EUR.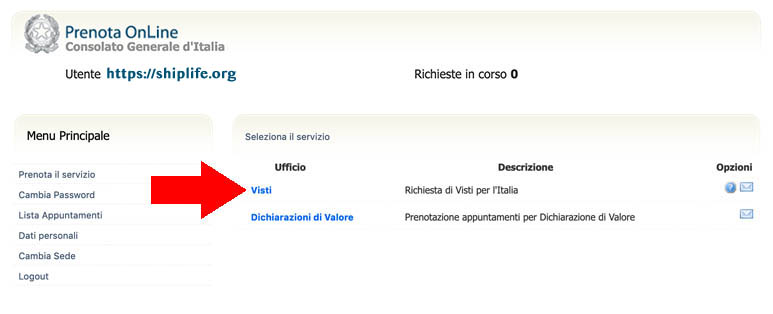 Now you need to fill out again some important information like your passport number, validity, address, telephone number, profession (use the one you will be working on board) and most importantly, a field for you to describe why you're applying for a VISA. You must fill out (it can be in your own language) that you're applying for a "Visto di Lavoro Subordinato Marittimo" (copy and paste from here to be sure). Then review all your information and click to Confirm.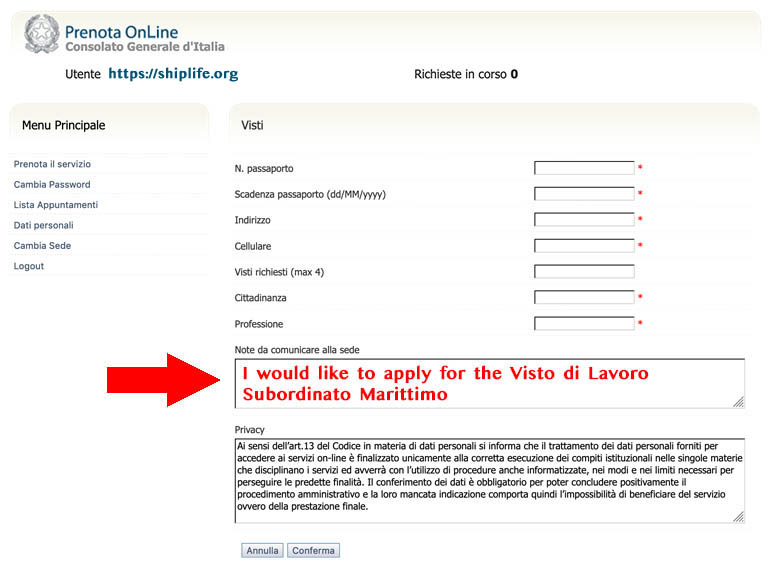 Lastly, you will be able to see a calendar with all the available dates for you to do your interview on the consulate of your choice. After you confirm the date that works best, you will receive again an email confirming the upcoming interview, with the address of the place you need to be at on the scheduled time, with all your required documents as instructed either by the company or by your agency. In case you're applying with an agency, at this time you should contact your agency and confirm the next steps.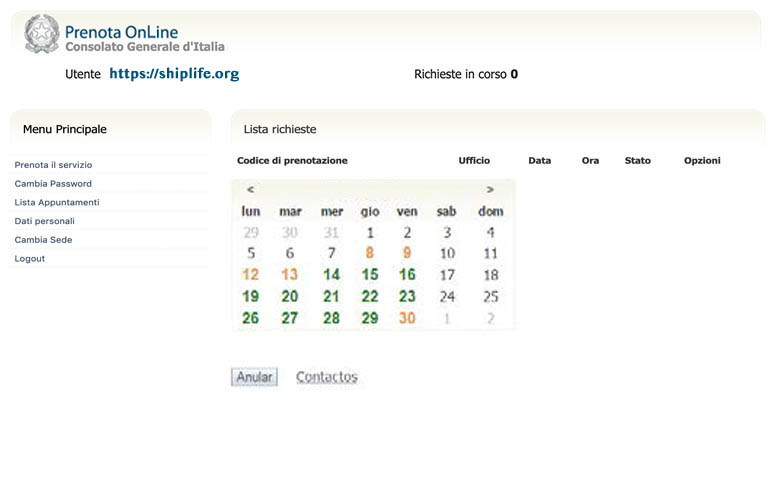 If you liked this guide and think that this tutorial saved your life, don't forget to like us on Facebook as well.