Your first days on board…
In this section we will talk a little about everything that you'll have to do on your first days, all the new stuff you will be required to learn very quickly, which can be a stressful, situational and challenging experience for all new hires. It's not just the work environment, but also the new lifestyle that you have to adapt to!
1. Airport and Immigration
Before we begin, make sure that you've read our tutorials on How to Pack and recommended Apps for Seafarers, as those will really help you out to start with. Also, we have to mention that all cruise companies are different, but most of them provide the same services and orientations.
You will most likely be flying to the port of call where you will be joining your ship on the day before embarkation, where most cruise lines also arrange a hotel stay for all their employees the night before they join a cruise ship. As soon as you arrive at the destination airport and pick up your luggage, you will pass thru the customs and immigration system.
If you're joining a ship in the United States and the immigration system uses self-check machines, those machine will not recognize your C1D VISA (last checked on January 2020), so you will need to reach out to a helper and say that you're a cruise ship crew member. They will redirect you to a booth where YOU MUST SHOW YOUR LETTER OF EMPLOYMENT (LOE) in order to pass thru. If you've read the "How to Pack", you will probably keep your important documents close to you at all times. You might also get redirected to a private room where immigration officers will contact your cruise company to verify that you really are a crew member.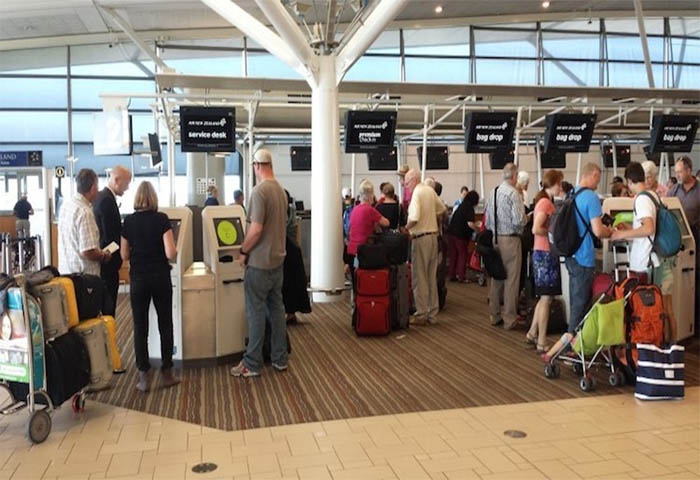 Afterwards, you can proceed to exit the airport either by yourself, taking a cab/shuttle to your destination or there will be a service associate with your name or your company name and logo on a card waiting for you. Each cruise line is different, so follow the guidelines provided by your company.
2. Hotel
If you're not being provided a hotel stay the night before joining or if you're heading straight to the ship from the airport, you can skip this part.
As hundreds of crew members are joining different cruise ships every day, you might arrive at the hotel and find some new friends that might be or not joining the same cruise line or cruise ship as you are. At the reception desk you introduce yourself, provide your passport and LOE, and will be probably required to sign a list. You will be provided a room key and some vouchers to use at the hotel restaurant for some food on the day that you arrive plus a breakfast on the next morning. For the room, you might or not share a room with someone else that is going to the same ship as you, not necessarily on the same position/department.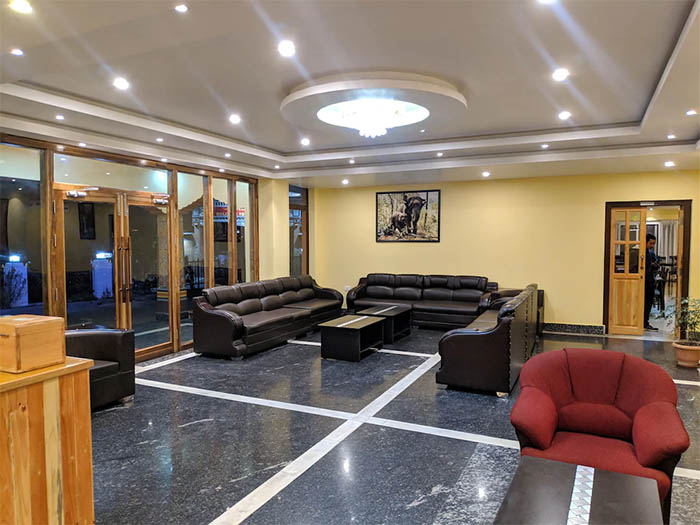 Use this night at the hotel to properly rest before a long flight, and if there's any place nearby that you would like to go, enjoy that free time, as it will be probably the last time in a while that you will be able to do something like that, specially if you're embarking on a place with a lot of touristic attractions like Barcelona, Venice, Civitavecchia, New York or Seattle, for example. Even being home ports, you might never be able to visit some locations during your very short free time. The hotel desk can provide some directions, and if you have read thru our guide on apps, you can always call an Uber for instance. Just make sure to save some time to rest back at the hotel.

As you wake up on the next morning, head to the breakfast and eat as you like. Afterwards, head back to your room, pack your stuff (make sure you didn't forget anything), and head back to the hotel lobby to sign out and wait for the shuttle bus at the assigned time, where you can take this time to talk with others and make more friends. Just make sure that before you leave the hotel, you use the bathroom one last time as the shuttle service can take up to two hours from the hotel to the pier, and the pier will be a chaotic logistic scenery for a new hire.
3. Embarkation!
As you arrive at the pier where your new home is located, you will probably be amazed by thousands of people all moving in different directions, forklifts moving cargo and luggage all over the place and if we are talking about a port in the United States, a lot of K9 dogs sniffing out every single pallet. Just stay close to your group and follow the provided instructions.
Once you get inside the ship, you will be required to remove your shoes and accessories in order to be scanned by the ship security, together with your bags. Also talking about your bags, make sure that you have all your important documents together with you at all times, as you will need them right now!
There's usually a nice feeling when you join a ship for the first time, followed by looks from everybody else passing by the gangway and anxiety emerging from everything. It can be overwhelming, but don't worry, you're on a safe environment.
You will follow a line and "check in" with some officers responsible for taking care of your documentation. There's no set order but you must wait for your turn, one at a time. You will be required to provide your passport to someone from the HR department and sign a list, your medical exams to someone from the Medical department and sign a list and lastly your safety trainings and related certifications (if any) to the Safety Officer and, sign a list.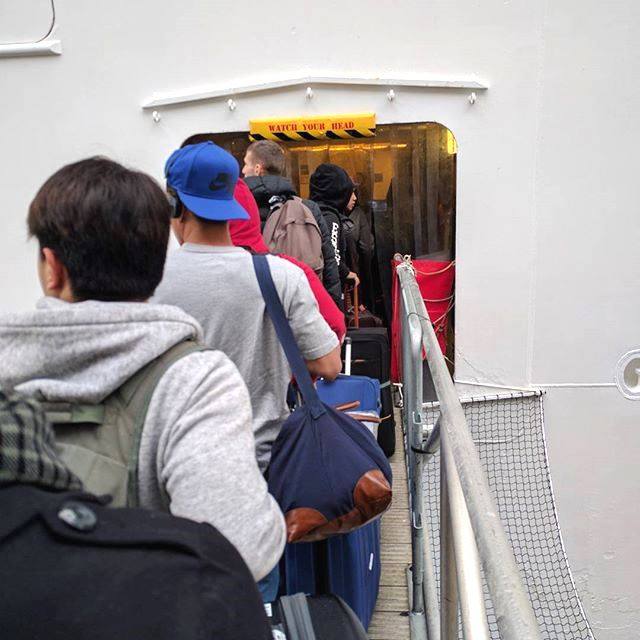 During this quick process you will receive a temporary room key card with your room number written on a sticker. It is not written on the card itself because if you lose the card, nobody can use it to enter your room (make sense, right?). You will also receive your very first name tag that must be worn at all times or according to your company regulation, and your contract to read and sign. Make sure you read your contract and make sure that your salary is the same as were indicated during the recruitment process. If it is wrong or has any misspelled information on your details, inform the person in charge and they will help you out. You will not receive your ID at this time neither your payment card.
You will be instructed to leave your luggage behind and follow the safety officer on a tour around the ship most important areas and aspects. There, you will also get to know the different types of doors around the ship, like the Fire Safety Door (FSD) and the most feared Watertight Doors, that do not stop for nothing while being operated. You will get to know the crew mess, the crew bar, recreational rooms and most importantly, where to go in case of a drill or any real emergency.
Keep in mind that at this time you will be following a group, while paying attention to what people are talking and passing thru diverse areas inside the ship, and it is totally normal to feel lost, as you will get lost at least three times per day during your first month!
After the little ship tour, your manager or someone from your team will be assigned to pick you up and show some specific work areas and the environment that you will be working at. Take this time to absorb as much as you can and try your best to remember all important information like how to get from point A to B, and from your cabin to your workplace. In case you need help, just ask anyone. Everybody will stop what they're doing in order to help you out!
You will be instructed to be at a certain place on a specific time for some lectures about the cruise ship, what is expected of you and so on. During these trainings you get to know more people, start to recognize people that you met before and will get to know who is the captain, officers, directors and other managers around the ship, as well identify professions based on their uniform. You will have dozens of trainings to attend on your first weeks on board, each providing more and more knowledge.
At the end of this first training, there will be a safety drill that you do not need to attend as it is a PAX Drill, mandatory before sailing. Instead, you will be redirected to the laundry where you will pick up your new uniform and if needed, the tailor will assist you by making small adjustments to it. That's why you probably had to fill a sizing chart during the first steps, so your company could make sure that they had spares of the correct size of your uniform available on board.
4. Working
After collecting your uniform and trying it on to make sure it is comfortable, head back to your cabin or to the same place you were before the ship tour in order to collect your luggage, if you haven't so far. You will probably be sharing you cabin with at least one more person of the same gender as you and often common, from the same department. Use this little spare time to settle in and unpack, as otherwise mentioned, that will be your cabin for the rest of your contract.
At a certain time, you will be required to be present (with your uniform on and nametag) at a certain place to start your very first shift on board. Before leaving your cabin, make sure that you memorized your cabin number, that you have your keycard with you at all times (as you will be locked out if you don't) and that you left anything that you will not need in your cabin (documents, wallets, money and most importantly, your cellphone). At this very first moment, you will not need those things that can easily distract you and impact negatively your work.
Arriving at your work place (in question on where to go, or if you get lost, just ask for help. Once again, it is totally normal.), you will meet with your manager that will introduce you to the rest of the team that you will be working with. He/she might show you what you will be doing or will assign someone with experience to assist you. Just pay attention to what they're demonstrating, even if you have done it before. You might be doing it wrong or differently from what the company standard is, so pay attention!
Time will probably fly and at the end of the shift you might be coerced to join some new friends at the famous crew bar. If you have any strength left, you should seriously consider it, as the bar will be packed with people that just joined, and you might even be able to see old friends or make new ones. Even if you feel tired, try to attend just to say hi. If you really do not want to go, you don't need to. Take this time to rest as from now on, you will be working your daily shifts every day doing the whole duration of your contract, and having spare time is rare.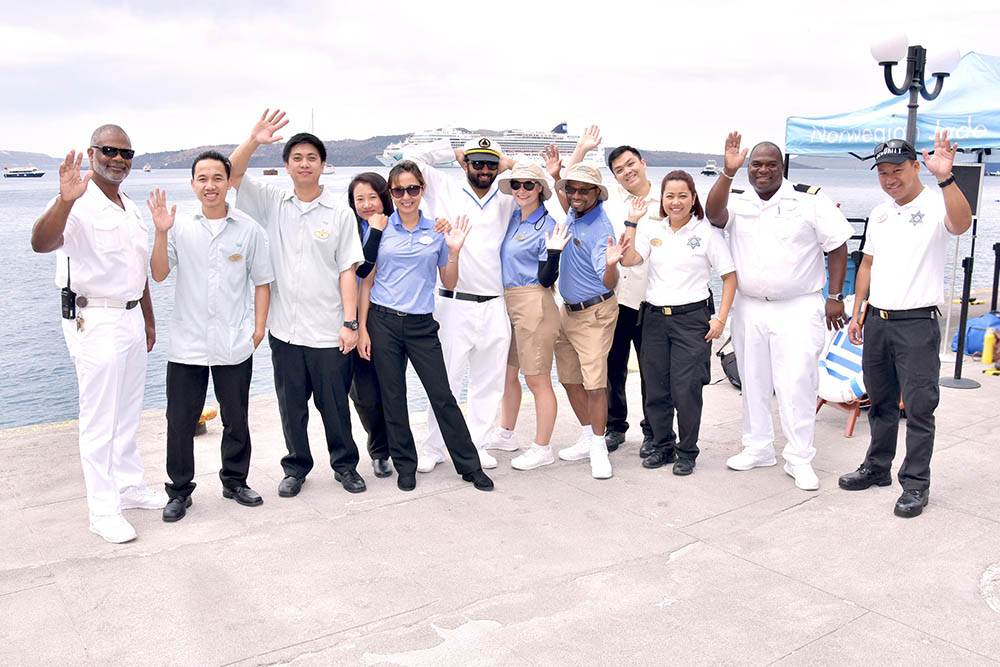 On the following days you will be taking pictures for your official identification card that you will be required to carry with you at all times, (specially when you're out of the ship), collecting your payment card where you will be receiving your salary weekly/monthly, attending trainings, making friends, getting better at work and for sure getting lost all the time, but less and less until you don't anymore.
Take this time to reflect of your whole journey so far, what you accomplished and what are the next steps on your career progression, in case you decide to do more and more contracts. From here, there's little less that you can learn from us, but we are sure that you used or will be using every tutorial we made thinking specially for you, that will not be considered a new hire anymore.
WE ASKED: HOW WAS YOUR FIRST DAY ON BOARD?
We asked our Communities: How it was your very first day on board? Here are some replies we got, and if you want to contribute with yours (we will not mention your name), you can do so by getting in touch with us.
Safety off. used me as a demonstration subject on the very first training on board, was very anxious when he called me by name, thought I've made something wrong... asked him how did he knew my name... he replied ''I just read your nametag'', the whole group laughed and Ive made friends for life there!
Got lost for nearly 45 minutes and was too afraid/shy to ask for help
Full of struggles... just to find way to uniform, tailor, laundry and moreover...how to remember the way to your cabin.
My manager tour me all around the ship not in the laundry or some offices but on the nice places of the ship with photos. Then sleep. It was only 4hrs of travel and still get rest
My first day of being on the cruise ship was very scary. All of these different emotions in one. I remember my ACD showing me to my cabin and she just kept trying to tell me how everything was going to be OK and don't be so nervous. When she showed me to my cabin and opened the door I thought to myself what in the world did I just get myself into and why am I living in a broom closet for the next six months. That little broom closet became bigger within the next few months and was my safe sanctuary during my downtime. I have never really traveled anywhere and this was the first time on my own and years plus I was escaping a certain traumatic situation back home so in the end I did come out a more stronger confident woman.
Found my roomate crying on the bathroom as soon as I first entered the cabin. Apparently she was getting hot heat from her manager because her skills weren't improving after two weeks on board. I sat with her and we spoke till she calmed down. We found out that we were from the same neighborhood, and we made a pact that we would both try our best to adapt to the cruise ship life. That was 18 years ago, and we did more 12 contracts together! Now we are both very much hapily to find each other on board
I didnt realized that the fire doors were magnetic and had to press a button for some of them to open or close. Spent 1h trying to reach my cabin till someone passed by and explained to me how it worked!
Ask myself why I came to ship life, was doing good in hotel
I was so tired I couldn't keep my eyes opened for training getting lost cant find my way to the cabin
For me I was excited before I get in to my ship. After that I lost my luggage, busy with Pepper work. Then went for collecting unify, went to the galley first time.. saw big galley. Everyone asked first time. . welcome onboard. After collected my cabin key, and duty handover note been to cabin. Change uniform.. I'm lucky got single cabin no mate. So feel freedom of my cabin. Went for training and came back 3 pm. Lost the way to my cabin. Still remember my cabin number A016. 16 isy lucky number!..... Took one hour rest then back to work. First dinner service I was so lost was work style is different from hotel.
My manager told me I would quit before the end of my contract. I guess to him Entertainment Technical was better suited for men. It was a difficult contract, but I didn't quit. I would have had my 4 year work anniversary in April if it hadn't been for Covid.
Cried in bathroom after work finished.. talk to myself why I am here in a different world.
After first dinner service went to bathroom during my dinner break. And cried a lot. In second service I tried my level best to give good product. But my line manager was not happy with my work and sought on me. He said if you can't work then why and how you come onboard? You should come as galley assistant. I was embarrassed lot as I've studied a lot of culinary to get this position. But my executive chef called me and described me about the working style of cruise ship. And he said that I had great experience in Culinary, just needed to adapt to the ship and that I had to promise him that I wouldn't quit from my contract. I promised and after completing 9 years in shiplife now presently I am running my own consultancy services, helping candidates to apply for cruise ships and changing their lives like mine was changed.
Asked someone on the line to join the ship what he did on board, he replied that he was the captain, and laughed. I tough it was a joke till I saw him in uniform #FACEPALM