ABOUT US:
Crew members providing insights for future crew members, isn't that great?
In the beginning, there was nothing. Then it exploded. We are still building this website, and we know that there are some broken links and missing content, but it's a work in progress. If you're looking forward to help us, check out our Careers page. On this page you get to know more about our details, what we do what we do, meet the author and get to know the rest of the team that made all our content be available, for you, for free!

Our Google Analytics data, so far:
We do not display any kind of ads on this website, our whole content was made and designed in order to help others, so having large web traffic isn't the real goal here. But since our creation, we hit over 2,000,000 unique access so far, with an average of 20 to 30.000 hits per month from all over the world.
Other interesting data is that 20% of our visitors are in the 18-24 age group, 50% are on the 24-35 age group, 16% on the 35-44 group, 4% 55-64 group and 2% are over 65. So no matter how many birthdays you had, there's always an interest about how to work and life on board cruise ships.
AVERAGE TIME SPENT ON THE WEBSITE: 14 minutes
AVERAGE TIME LOADING PAGES: 7 seconds
AVERAGE PAGE HITS: 73.000 per month
AVERAGE UNIQUE IP ADDRESSES: 35.000 users per month
AVERAGE NUMBER OF DDOS ATTACKS: 200+ per month
TOP COUNTRY WITH BLOCKED IP: Singapore (1350+)
TOP EXIT PAGE: Basic Requirements
TOP CONTACT QUESTION: "Do you hire?"
MOST FILLED SURVEY: Salary comparison
MOST FILLED FORM: Frequently Asked Questions
TOP 10# COUNTRIES:
Brazil
United States
Philippines
Portugal
India
France
Italy
Indonesia
United Kingdom
Spain
He is an ENFP-A, the Campaigner, the Inspirer:
The first time I heard about working on cruise ships, it was from a friend of a friend, that did one contract as a Gift Shop seller with Starboard back in 2009. I spent the entire year researching all the content I could absorb from every single blog I could find. There wasn't any big websites like crew center or this one at that time, so information was scarce. In the end, I managed to apply with an agency for a photographer's position with Princess Cruises in 2010.
Skipping forward some years, in 2014 I was a photographer at Norwegian Cruise Line and started my own blog about photography on board. Mostly talking about NCL and Photo Equipment, but soon I found myself explaining other roles and what are the best ways to apply for different cruise lines. On a very boring afternoon I started to think about one single website that could inform new hires all about the hiring process and the steps, and also help veterans on how to apply for different cruise lines. As many great ideas, the concept was drawn in a napkin, with the basic structure and what should be available to be searched.
Here we are, some years after that point where it all started, launching an international website because the content of the first one started to be seen from different countries and different languages. My dream is to be able to share the content on this website anywhere I go and change many, many lives, just like I was able to change mine, but at this time, with all the information in one place.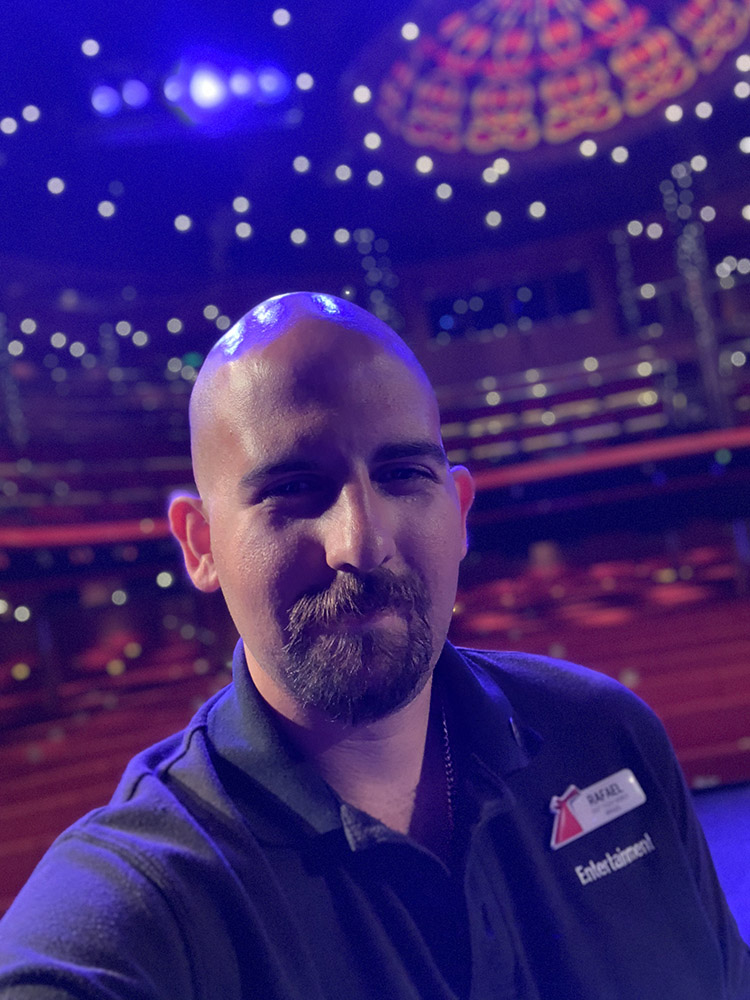 (Currently, working as an Entertainment Video Technician for Carnival Cruise Lines and working hard in order to become a Master Technician.)
Of course, none of this would be possible if there wasn't other people involved. When the first website (shiplife.com.br) started to grow out of Brazil, the feeling was amazing. But then I started to receive more and more emails from different countries requesting assistance, agencies from Europe looking for publishing space, and till then, the whole website was available in Portuguese only. Were people translating the content in order to understand it? Well, that had to change. Nowadays we have a team of supporters and translators that even without pay, help us grow, like a family.