Cruise, River or Yachts?
Learn the different between them here.
Yes, we know that the industry is dominated by cruise lines and it is very easy to find information about them online. But do you know that the River Cruises and Yacht market is as demanding as the Cruise industry? It really is! And funny thing is: They also share the same positions with way higher salaries! So we are here to not only teach you how to apply for Cruise Lines, but as well for River Cruises and Yacht Agencies all over the world.
Before we begin, you can check out those three lists below, each containing the companies of their own market. We understand that the requirements or selection process is different for what you're looking and you might just be looking for the list of companies that you can apply or the job you can perform at the moment. So here they are:
Now we can proceed to teach you all you need to know about those three very distinct markets that in the end, are part of the same industry. It is very unclear who made the first official cruise ship voyage of the world, because the concept of having a ship for pleasure and entertainment wasn't a reality at the time.
In the 19th century, the North Atlantic shipping companies began to deploy ships that usually transported passengers between Europe and America on recreational cruises. For example, in 1895, Holland America Line did that line's first cruise: a voyage from Rotterdam to Copenhagen and back. Other shipping lines offered similar voyages, especially in the winter months when demand for North Atlantic crossings declined.
Still, the ships used for these cruises are more properly described as ocean liners rather than cruise ships. Ocean Liners were purposely built to carry cargo and mail across the Atlantic, and the very third and last option they had was to carry people as well. They were not built for the purpose of cruising but rather to transport people from one place to another much like airplanes do today. They only cruised occasionally. Their primary role was as a means of transportation, not recreation.
The first ship purposely built for cruising was the Prinzessin Victoria Luise. Although successful, her service career was very brief, lasting from 1901 until 1906 when she wrecked off of Jamaica. And don't picture a large passenger vessel as we have nowadays, she was a very small ship with only 4,409 gross tons, with 120 luxurious cabins and such features as a library, a gymnasium and a dark room.
Keep in mind that we are talking about a ship with over 100 years! Still, she was about 50x smaller than the largest cruise ship we have today.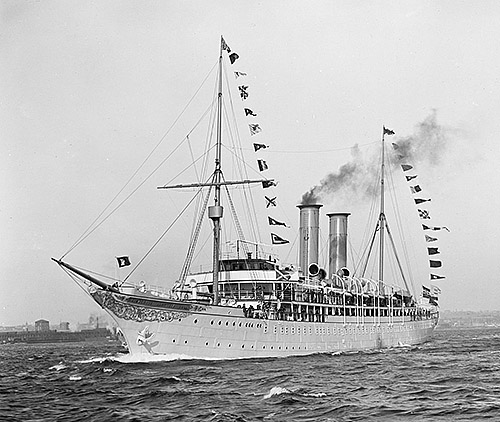 All that history was necessary to formulate a point: What once was just a mean of transportation is now one of the biggest industries of the world. This industry is so big that over 200 companies segmented the market into three distinct categories: Cruise Lines, River Cruises and Yachts.
Cruise Lines are basically all major brands of cruises that sail around the globe, doing transatlantic cruises, long and short voyages, for rich passengers or the casual family looking for a cheap vacation in the Caribbean. The cruise market is so big that even inside it there's still some separation between cruise companies due to the public they target their cruises for.
Inside the cruise market, we have: Casual Cruisers, Family Cruisers, Premium Cruisers, Ultra-Premium Cruisers, Luxury Cruisers and Expedition Cruisers. If you wish to learn more about every segment and which companies are represented on each group, you can read our article about Cruise Markets by clicking here.
Now when it comes to River Cruising, most people don't even know that the market exists! River Cruises are smaller partition of what Cruises are but they serve the same purpose: Offer short-to-long trips on rivers across the United States, Europe and Asia, where big vessels don't fit due to their size. Since the river cruises are built for smaller places, they cannot offer all kinds of entertainments on board. So they focus more on experiences and private tours ashore.
One key element to River Cruises is that all crew members must possess a valid passport of the same nationality of the ship or region being sailed, so this makes the market very very small for those who wish to apply here.
Finally, we get to the market that grows over 300% each year: The private, all-inclusive and glamorous Yacht cruising and charter. Working on a Yacht is a totally different environment than working on other cruise vessels, as you will be required to work in a small ship with a even smaller crew, in a place where everyone must do their parts in order to keep the boat running. On yachts, there's basically only four positions available: Deckhands, Stewards, Cook and Maritime.
Due to the expertise needed, yachts are the TOP#1 on our list for making money in a short time: One month worth of pay can reach over 10.000 dollars/euros for a Steward/ess. It is also one of the most complex work environments and has the toughest selection process of all. But if you got it in you, you'll sure thrive.

Now you know almost everything you need to know about this industry that we all love and live for. If you need more in-depth knowledge about the markets and how they work, check out our Knowledge Center.