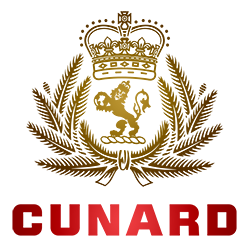 To talk about Cunard Line we have to go all the way back in the cruising history, more precisely into 1840 were the British and North American Royal Mail Steam-Packet Company was founded. For most of the next 30 years they held the Blue Riband for the fastest Atlantic voyage. However, in the 1870s they fell behind its rivals, the White Star Line and the Inman Line. To meet this competition, in 1879 the firm was reorganized as the Cunard Steamship Company, Ltd, to raise capital. Traveling forward a few decades and some wars later, in 1934 Cunard merged with the then ailing White Star line to form Cunard-White Star Line. Cunard owned two-thirds of the new company but purchased White Star's share in 1947. The name then reverted to the Cunard Line in 1950, as stands as it today.
Upon the end of the Second World War, Cunard regained its position as the largest Atlantic passenger line and by the mid-1950s, it operated 12 ships to the United States and Canada from England. After 1958, transatlantic passenger ships became increasingly unprofitable because of the introduction of jet airliners but the company held its ground strong until 1998 when Cunard was acquired by the Carnival Corporation.
Up to this day, Cunard is the only shipping company to operate a scheduled passenger service between Europe and North America. Meaning that on a normal six months contract, a fellow crew member can expect to cross the Atlantic around 22 times, one every seven days. Other itineraries include San Francisco to Japan or Australia and round trips around Australia.
Official website: www.cunard.com
Founded on: 1840
Company Category: Premium
Conglomerate: Carnival Corporation
Official Language: English
Sails to: Worldwide
Ship's Flag: Bermuda
Average age of PAX: 65
Offers free wifi: No
Offers single cabins: Officers only
Allows visible tattoos: No
Allows different hairstyles: No
Provides STCW on board: No
Provides Airline Tickets: Yes
Provides Hotel accommodations: Yes
Requires the Marlin's Test? Yes, with minimum of 80%

BASIC REQUIREMENTS:
Previous cruise ship experience needed, with good recommendations from previous managers. All positions require advanced to fluent english, with really high standards of service and good qualifications.

Queen Victoria

Queen Elizabeth

Queen Mary 2

Below you have access to the company ratings, according to actual and past crew members of the company on various aspects, ranging from time of permanence, desire to continue working in the company and scores for services provided. Are you working for this company or have you worked on this company before? You can fill this company survey by clicking here!
How long have you been working for this company?
How did you got hired?
Applied straight with the company 0 / 2
Applied through an Agency 1 / 2
Job Fair / Cast Audition 1 / 2
Concessionaire (Shopping, SPA, etc) 0 / 2
Do you see yourself doing more contracts in this company?
How's the food at the Mess?
How's the accommodations? (Your cabin)
How are the activities for crew? (Crew Parties, Thematic Food, Shore Excursions, Discounts on board, Sportive events, etc.)
How fast is the on board wifi?
How often crew have the opportunity to change department? (By cross-training or internal hiring)
Sometimes, if they deserve it. 1 / 2
How often people get promoted? (Within the same department)
Sometimes, if they deserve it. 1 / 1
Does the company provide all the trainings on board? (STCW, SCC, Crowd Control, PSCBR, etc.)
Does the company provide Flight tickets during the first contract?
Not for all positions 1 / 1
Does the company provide a Hotel prior joining a ship?
Not for all positions 1 / 1
Would you recommend other people to apply for this company?