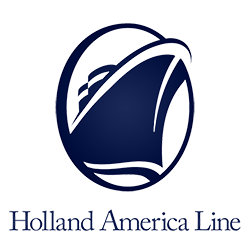 Holland America Line (HAL)
Holland America Line was founded in 1873 as the Nederlandsche-Amerikaansche Stoomvaart Maatschappij (Dutch-American Steamship Company), in short Holland-Amerika Lijn, a shipping and passenger line, that during the first 25 years carried over 400,000 people from Europe to the Americas. Though transportation and shipping were the primary sources of revenue, in 1895 HAL offered its first vacation cruise, which led to new and new ports of call, but most of its ship were still used for mail and cargo up until the Second World War. During the WW2, HAL had their 25 ships convertedto be able to carry supplies and troops. Only nine remained at war's end and that marked the end of carrying goods and the beginning of an era of carrying passengers.
It ceased operating as a Dutch line in 1989, when it was purchased by Carnival Corporation for 1.2 billion guilders (€530 million) and headquartered in Seattle in the United States. All HAL ships have a dark blue hull with white superstructure, with the company's logo featured prominently on the functional smoke stacks.
Due to the history of the cruise line as keeping their traditions and roots, their average passenger age is considered one of the oldest if not the oldest of all cruise lines, which leads to many jokes between crew members.
Official website: www.hollandamerica.com
Founded on: 1873
Company Category: Premium
Conglomerate: Carnival Corporation
Official Language: English
Sails to: Worldwide
Ship's Flag: Netherlands
Average age of PAX: 65
Offers free wifi: No
Offers single cabins: Officers only
Allows visible tattoos: No
Allows different hairstyles: No
Provides STCW on board: Yes
Provides Airline Tickets: Yes
Provides Hotel accommodations: Yes
Requires the Marlin's Test? Yes, with minimum of 70%

BASIC REQUIREMENTS:
Previous cruise ship experience not needed, but preferred. All positions require advanced to fluent english, with high standards of service and good qualifications.

Maasdam

Veendam

Zaandam

Volendam

Nieuw Amsterdam

Eurodam

Zuiderdam

Oosterdam

Westerdam

Noordam

Nieuw Statendam

Koningsdam

Ryndam

Below you have access to the company ratings, according to actual and past crew members of the company on various aspects, ranging from time of permanence, desire to continue working in the company and scores for services provided. Are you working for this company or have you worked on this company before? You can fill this company survey by clicking here!
How long have you been working for this company?
How did you got hired?
Applied straight with the company 2 / 3
Applied through an Agency 1 / 3
Job Fair / Cast Audition 0 / 3
Concessionaire (Shopping, SPA, etc) 0 / 3
Do you see yourself doing more contracts in this company?
How's the food at the Mess?
How's the accommodations? (Your cabin)
How are the activities for crew? (Crew Parties, Thematic Food, Shore Excursions, Discounts on board, Sportive events, etc.)
How fast is the on board wifi?
How often crew have the opportunity to change department? (By cross-training or internal hiring)
Sometimes, if they deserve it. 1 / 1
How often people get promoted? (Within the same department)
Sometimes, if they deserve it. 0 / 1
Does the company provide all the trainings on board? (STCW, SCC, Crowd Control, PSCBR, etc.)
Does the company provide Flight tickets during the first contract?
Not for all positions 0 / 1
Does the company provide a Hotel prior joining a ship?
Not for all positions 0 / 1
Would you recommend other people to apply for this company?