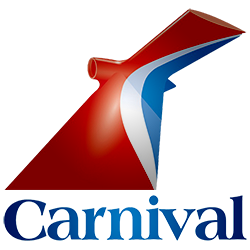 Currently, Carnival is the largest cruise line in the world, based on passengers carried annually, annual revenue, and total number of ships in fleet, and one of ten cruise line brands owned by the world's largest cruise ship operator, the American-British Carnival Corporation & plc. In 2018 Carnival Cruise Line was estimated to hold an 8.9% share of cruise industry revenue and 22.0% of all cruise passengers worldwide.
The funnels are shaped like a whale's tail and it has an interesting history about it:
Carnival designer Joe Farcus apparently drew inspiration for the funnel from a somewhat unlikely source: the SS France, which was then sailing as the Norway for Norwegian Cruise Line. The France featured two funnels with wing-like protrusions on either side designed to carry engine exhaust out and away from the ship, rather than up through the top of the smokestack like many commercial liners.
CCL also holds some achievements that are REALLY interesting for their crew members, like some of the best salaries at sea, topping up almost other cruise line, making it very competitive for new candidates to choose between cruise lines while applying. General crew areas are very pleasing  and alcohol policies are somewhat loose, with maximum estimate of how much alcohol is in your blood being 0.08% while offduty, given that you can purchase any kind of hard liquor once the crew bar opens.
Official website: www.carnival.com
Founded on: 1972
Company Category: Family
Conglomerate: Yes (Carnival Corp)
Official Language: English
Sails to: Caribbean, Alaska, Hawaii
Ship's Flag: Bahamas, Panama
Average age of PAX: 37
Offers free wifi: No
Offers single cabins: Officers only
Allows visible tattoos: Yes, for some positions.
Allows different hairstyles: No
Provides STCW on board: Yes
Provides Airline Tickets: Yes
Provides Hotel accommodations: Yes
Requires the Marlin's Test? Yes, with minimum of 80%

BASIC REQUIREMENTS:
Previous cruise ship experience not needed, but preferred. All positions require intermediate to fluent english, with good standards of service and good qualifications.

Carnival Sensation

Carnival Ecstasy

Carnival Elation

Carnival Paradise

Carnival Breeze

Carnival Dream

Carnival Magic

Carnival Splendor

Carnival Liberty

Carnival Freedom

Carnival Valor

Carnival Glory

Carnival Conquest

Carnival Radiance

Carnival Sunshine

Carnival Sunrise

Carnival Miracle

Carnival Pride

Carnival Spirit

Carnival Legend

Carnival Panorama

Carnival Horizon

Carnival Vista

Carnival Mardi Gras

Carnival Celebration

Below you have access to the company ratings, according to actual and past crew members of the company on various aspects, ranging from time of permanence, desire to continue working in the company and scores for services provided. Are you working for this company or have you worked on this company before? You can fill this company survey by clicking here!
How long have you been working for this company?
How did you got hired?
Applied straight with the company 1 / 10
Applied through an Agency 9 / 10
Job Fair / Cast Audition 0 / 10
Concessionaire (Shopping, SPA, etc) 0 / 10
Do you see yourself doing more contracts in this company?
How's the food at the Mess?
How's the accommodations? (Your cabin)
How are the activities for crew? (Crew Parties, Thematic Food, Shore Excursions, Discounts on board, Sportive events, etc.)
How fast is the on board wifi?
How often crew have the opportunity to change department? (By cross-training or internal hiring)
Sometimes, if they deserve it. 7 / 10
How often people get promoted? (Within the same department)
Sometimes, if they deserve it. 6 / 10
Does the company provide all the trainings on board? (STCW, SCC, Crowd Control, PSCBR, etc.)
Does the company provide Flight tickets during the first contract?
Not for all positions 4 / 10
Does the company provide a Hotel prior joining a ship?
Not for all positions 0 / 10
Would you recommend other people to apply for this company?