We gathered all the content that you will need and made one single tutorial on how to pack for a cruise ship being a crew member. Of course, you will need to pay attention the the small details of this guide and adapt it in order to make it perfect for your needs. In the bottom part, you can download some checklists for printing and organize yourself.
Before we even start talking about what do you need and what you definitely don't, take a time to think and understand the weight, size and space limits of not only the room you'll live in the ship but also the restrictions of airline travel. There are a lot of items that not only are banned on flights but also you will not be able to bring on board for any reason.
Also, think about all the time that you will spend in uniform (at least 90% of your day) and that you need to be able to carry your luggage by yourself from the airport to the hotel or the ship and back.
Choosing your luggage: Hardshell or Softshell ?
This is a very common question for people that never traveled, or that never did an international flight. Long story short, the choice is yours. We will just present you the facts, the good and bad points of each type. So, shall we begin?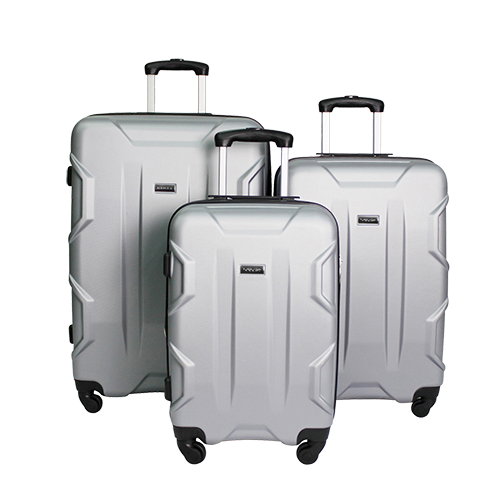 Hard-shell cases are made from materials that can take heavier impacts. The materials used can vary, but many manufacturers make this type of suitcase from polycarbonate or similar composites. It is generally believed that hard-shell suitcases offer better security. Their lack of external pockets means that someone can't simply unzip a compartment and take your belongings.
As you would imagine, a rigid suitcase takes up more space than a soft-shell one would. You cannot compact the case in any way – if it won't fit, then it won't fit. Even if you take some belongings out, it still likely won't fit. Furthermore, a rigid case takes up nearly double the space when it is open. You literally have to open it in half and lay each side flat to pack your belongings. Also, it's nearly impossible to fit into the overhead compartment on the airplane.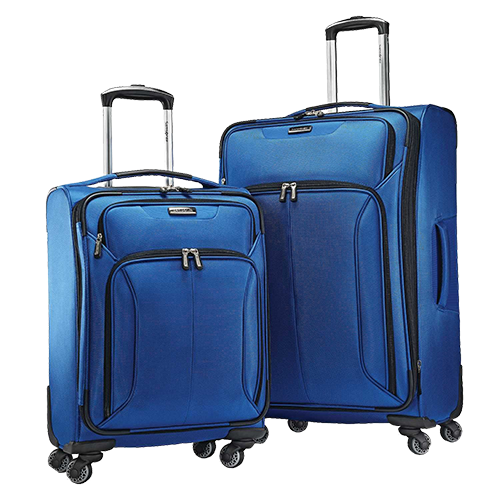 Soft-Shell: In contrast to hard-shell luggage, this option of luggage offers greater flexibility and movement. A soft-shell suitcase is usually made entirely of fabric but may be supported by a semi-rigid frame inside. Typically, soft-shell suitcases will have a main compartment and several sub-compartments in the suitcase lid. Moreover, the front of the suitcase will usually have a zip pocket.
Soft-shell cases are usually made from a flexible fabric such as canvas or nylon. Materials such as this can compact under pressure and thus allow your suitcase to fit into small spaces. You can literally squeeze the suitcase and force it into a tight luggage hold for example.
Moreover, the softer fabric could mean that your belongings gets damaged more easily. Soft-shell suitcases simply won't absorb any hard impact in the same way that a hard-shell suitcase would.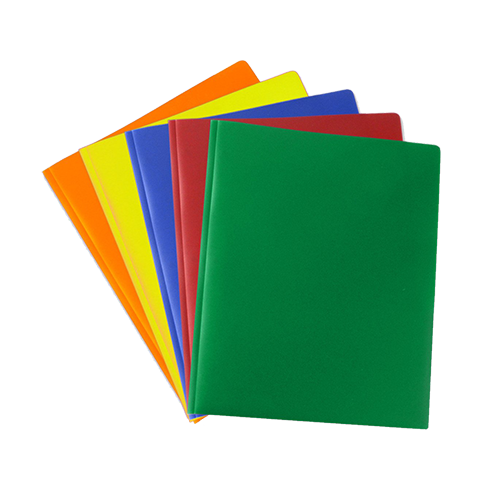 Make sure to carry all your documents with you at all times. Keep them safely inside a plastic folder with the ones that you will require most on top, like the Letter of Employment (for immigration purposes), the contract preview (for immigration purposes), the Hotel Procedures (if the company send you to a hotel before embarking), your medicals and vaccines (it will be the first thing that you'll need to deliver once inside the ship) and all your safety certificates (if you have them).
Your passport should be with you in your pocket, together with your wallet, money and local identification.
OK, I got my luggage, so what should I pack ?
OK, here's the fun part: How to put your whole life inside two or three small compartments and live up to ten months away from home? Well, you have to make some choices here. Think about that minimalist lifestyle that you always wanted to try but never had the chance to… well, good news, you're on the right path!
While working on board a ship, it is logical that you would spend a lot of time using your uniform. About 90% of it to be more specific, so think ahead of time when packing: Will I have time to use this? or On my free time, would I like to go around using this?. So take your time and think. don't worry if you bring something on board but end up never using it, but what is bad is to bring a lot of stuff and NEVER use it. Even people with a lot of contracts do that sometimes, let's face it: It is better to have to not have.
Some professions carry some of those items more often, like if you're a Chef, you're allowed to bring you own set of knives. If you're a Carpenter, Electrician or Technician the company will allow you to bring a pocket knife as well. Those are the items that you're not allowed to put inside your CARRY ON, but you're able to transport them if you use your main luggage. Keep those in mind when you're considering where and what to pack.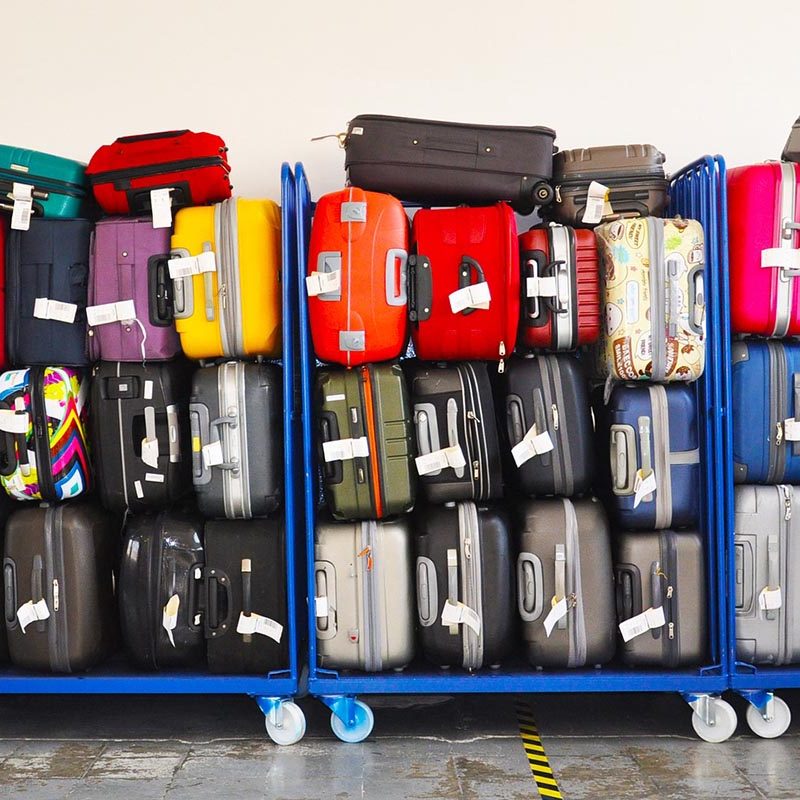 Main Luggage (Check-in) is the one that will be delivered at your final destination or connections by the airline. It's going to be underneath the airplane in the storage area and you will not have access to its contents for a while. So here you will pack all your clothing and bathroom items, including any carry-on prohibited things like aerosol deodorant, nail utensils and liquids. If you're carrying anything that might break, put it on the center so all the other contents will protect it.
Carry on Luggage is the one that you will carry with you the whole time, by keeping it on the overhead compartment over your seat. Due to size limitations, you can't put many things on it, so pack smart. Here you will carry all your electronic devices and most important valuables, like your documents, passport and just in case you need, a spare change of clothes.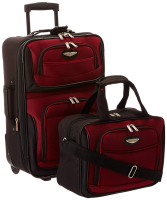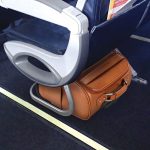 Personal Item is a total optional thing but comes in hand sometimes. Airlines also allow you to carry one personal item (like a small bag or backpack). This item should fit underneath the seat in front of you, literally removing your feet extra space. It is recommended to have a foldable backpack/bag for emergencies (like when you come back home and bought too much) rather than having an actually small suitcase.
Check for some available here: Foldable Backpacks on Amazon
We hope that this text was very informative for you. But now, let's give what was promised: Actual lists of what you should pack! These are very generic lists and you're more than welcome to do your own edits. They were created based on the experience of our team and also suggestions from other crew members. If you think that we missed something, get in touch with us! 
MAIN LUGGAGE:
10 ~ 20 underwear
5 ~ 10 black socks (if you use black shoes)
5 ~ 10 white socks (if you use white shoes)
1 black belt
2 ~ 4 long sleeve or polo shirts for special occasions
2 ~ 6 t-shirts for your free time
1 black social pants (if it isn't already part of your uniform)
1 jeans
2 shorts
1 beach shorts
1 Suit or Jacket (if it isn't already part of your uniform)
1 ~ 3 ties (only if you like to use them)
SHOES:
1 flip flops
1 comfortable black social shoes
1 white tennis (if you need for uniform)
1 black tennis (if you need for uniform)
Necessaire:
Deodorant
Cologne
Razor with some extra blades
Shaving cream if you need it
Toothbrush and paste
Medicines
Nail utensils
Band-Aids
Swabs
Condoms
CARRY ON:
Passport
Folder with your documents.
Cellphone, charger and headphones.
Wallet with your ID and some money.
Sunglasses (not mirrored).
OPTIONAL:
Tablet or Notebook
Camera
Power Plugs
Power Adapters
Morning After pill (emergency use)
MAIN LUGGAGE:
10 ~ 20 Underwear
6 ~ 10 Bras
5 ~ 10 Socks
10 Pieces of pantyhose
1 Black belt
2 Jeans
2 Pants
1 Skirt
2 ~ 4 Shorts
T-shirts to use underneath the uniform
2 ~ 10 Shirts
1 Coat
1 Long dress
2 Comfortable dresses
Yoga pants
SHOES:
1 ~ 2 Heels
2 Shoes
1 ~ 2 Flip flops
1 Tennis (according to your uniform)
Necessaire:
Hair dryer
Curling Iron (* this item is BANNED on most cruise companies)
Medicines
Contraceptive pills (enough for your whole contract plus one month)
Nail utensils and polish
Assorted Makeup
Sunscreen
Shampoo
Toothbrush and paste
Deodorant and Perfumes
Band-Aids
Lipstick
CARRY ON:
Passport
Folder with your documents
Cellphone, charger and headphones
Wallet with your ID and some money
Sunglasses (not mirrored)
Extra clothes
Jewelry
Lipstick
OPTIONAL:
Tablet or Notebook
Camera
Power plugs
Power adapters
Morning After pill (emergency use)
Underwear organizer
Shoes organizer